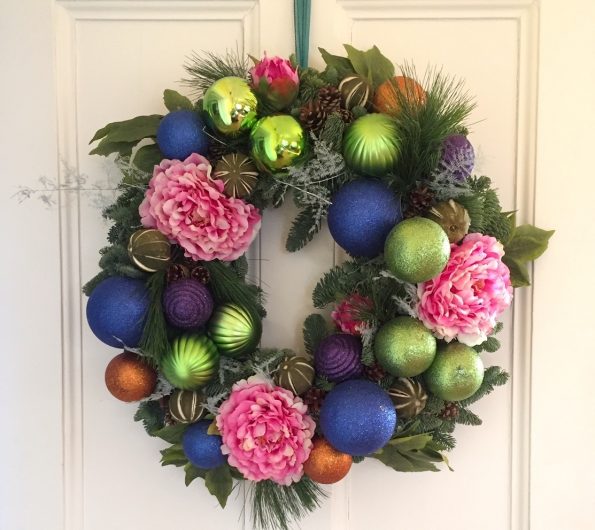 Home & Garden
Wreaths – Decorate your front Door
On my recent book tour promoting PRUE; my all- time favourite recipes, I saw this wreath by Cut Flower Kitchen, hanging in the Broadleaf bookshop in Abergavenny. It inspired me to have a go.
So I twisted the arm of my friend Philippa Lillywhite, red hot gardener and florist, to give me a lesson. She scoured her garden and mine for bendy twigs, nuts and pinecones, and turned up with a box of stuff she'd dried in the summer – Old Man's Beard, hops, seed heads and pods, berries and sliced oranges. She also brought stiff wires, a reel of soft brown wire, dried baby pumpkins, chillies and chrysanthemum heads.
We worked happily for an hour and produced two wreaths, one restrained and classy in the mode of my Abergavenny inspiration, and one a lot more colourful.
It really is dead easy: Here is  Philippa's Wreath recipe:
To make the base for the wreath take long thin flexible birch branches between three and six feet long and lay them evenly, head to tail, on top of each other so that you end up with an even thickness. When squashed together and tied with thin wire at intervals you should have something a little thicker than a broomstick. Now bend the length of sticks into a circle, overlapping the ends by about six inches. Bind the two ends together and make a loop with wire or string to hang the wreath up by.
Wire dried orange slices, chillies, walnuts (they have a week spot at the end into which you can force a stiff wire) dried flowers, seed heads or pods onto stiff wires. Stick the ends of the wires of these objects through the wreath at intervals to position your seedpods or whatever. If the base has been secured tightly, it should hold the object securely and you can use wire cutters to trim off the wire at the back.
Use thin flexible wire or brown cotton to arrange more decorations on the wreath.
Add baubles or ribbons or other Christmas decorations if you like.
Hang the finished wreath up and check it from all sides and fill any gaps.
Spray the wreath with hair spray to stop pine needles or delicate bits falling off.
If you haven't got the time to make your own wreath then take a look at this one from Wild about Flowers. A bright cheerful and jolly wreath that would brighten any door this Christmas.  As you know I cannot resist colour and I cannot resist this!!