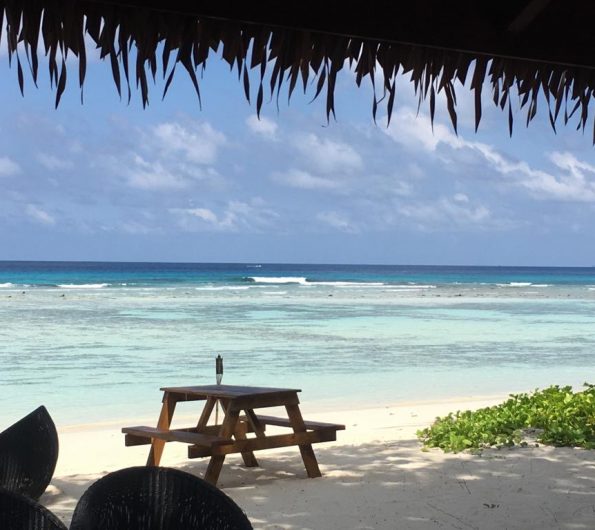 Travel
Seychelles Holiday
Last year's atrocious English summer of rain, wind and cold, and two years of cancelled holidays and travel restrictions drove the South African in me wild. Desperate for sun (my can of St Tropez fake tan does a good job, but it's not the same!) we booked for the Seychelles.
February is not the BEST month, because the rainy season is only just leaving the islands and a lot of our days were overcast. But the air was warm and, said, my husband, you can tan through the clouds.  I didn't believe him, but a burnt back has proved him right.
In fact, the weather was a welcome mix of sun and cloud and we only had one day of (warm) rain. The Seychelles claim, with reason, to be an all-year-round paradise. They never get hurricanes, heatwaves or cold. The temperature hovers round 25 degrees. Being tropical, the vegetation is always lush and green. It clothes the vertiginous slopes – the islands are mostly mountains rising from the sea, fringed (as the brochures claim) by the palest, cleanest beaches.

We spent a week on Silhouette, an island with a single five-star resort, the Hilton Seychelles Labriz Resort & Spa, and then four days on the main island, Mahé at the Hilton Seychelles Northolme Resort & Spa. It was a great combination: Labriz has about 110 private villas, their gardens planted with exotic plants bearing startling bright orange, purple and red flowers. The grandest villa must be for presidents and potentates only, built into the mountain among boulders as big as buses and verdant jungle above which lofty palm trees wave. It has a bathroom the size of a small house, an infinity pool with a fifty-foot drop, and reception rooms, terraces, bedrooms to match.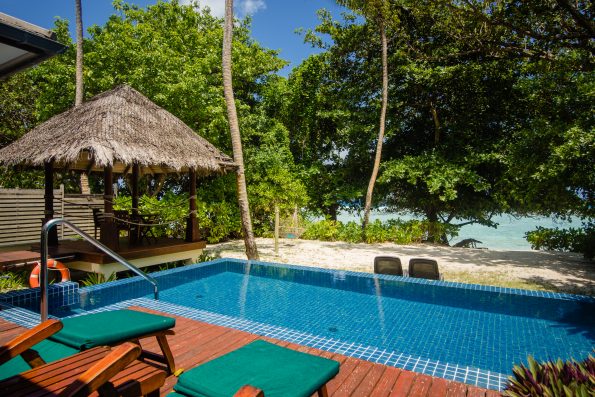 Our villa was smaller but no less luxurious.  The four-poster is on a raised platform to enhance the view across the sitting room through the French windows, past the terrace, private pool (complete with cascade) to the beach. To the right is a little lawn with a double hammock strung from a tree. To the left is an elevated thatch-covered platform with a drinks table for too. To right and left are thickets of greenery to ensure the neighbours have as little idea of your existence and you do of theirs.
Our morning routine was a stroll along the beach to breakfast under a tree. Then a longer walk to the end of the beach, usually with a dip on the way in water barely below body temperature. Then back to our terrace loungers and a morning doing nothing at all but sleep and read. Eventually guilt would propel me into the pool which is only 1.3 metres deep and maybe four metres long. It takes less than a minute to swim two lengths. Just push off, swim, turn, swim. I dutifully increase my lengths until, on day seven I have swum eighty in half an hour. I don't suppose our beach walk plus my swim would satisfy my fit-bit, but I've sensibly left it at home. And the exercise certainly does not justify the breakfast, lunch time buffet, and Italian dinner (or beach barbecue, Creole dinner or Japanese teppanyaki) plus the odd ice cream and frequents cocktails.  Ah well, what are holidays for?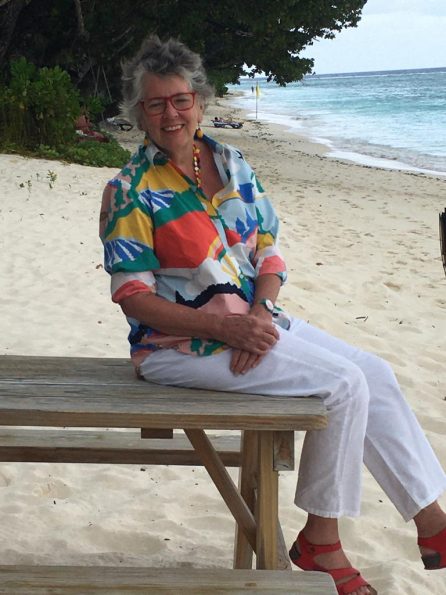 I also loved that Labriz had some great sustainability and environmental initiatives. I'm generally suspicious when hotel companies bang on about their environmental credentials, which in practice often amount to little more than asking you to re-use your towels. But Hilton Labriz in the Seychelles is the real deal.
Labriz is the only hotel on the island of Silhouette. The whole island (and great swathes of the surrounding ocean) is a National Park and protected.  It is home to a clutch of giant Seychelles Aldabra tortoises, The hotel works alongside the Island Conservation Society to run a nursery for tortoises under five years old, protecting them from predators until they are big enough to fend for themselves. The Seychelles boast some 200 species of birds, and Silhouette has a roost of the near-extinct sheath tailed bat and plenty of flying foxes (fruit bats), clown fish, sea turtles, and a large hedgehog-like creature called a tenrec.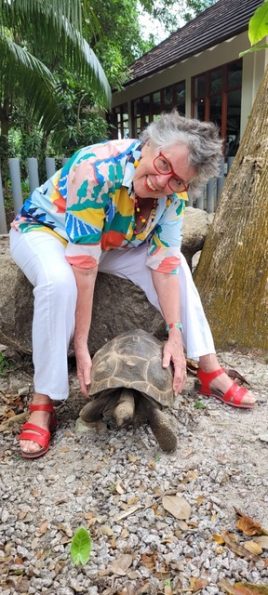 Most impressive of all, the Seychellois are not litterers: in ten days we only found one foreign body on the beach, and that was two square inches of coke bottle, so worn by sea and sand it had clearly been washed up from distant shores, soon to be collected by regular beach clean ups.
At Labriz, the beaches look like a Disney fantasy: miles of pale, almost pink sand as soft as talc, turquoise shallows, navy deeps, wavelets frilled with white, clear blue sky, palm trees – even, I swear, hanging hammocks. By good fortune, much of the coral reef that rings the island is alive, coloured red and pink, not bleached white or grey like so much coral – the result of rising sea temperatures in which coral cannot survive.
I'm glad to say that the hotel management don't clutter your cabin with virtue-signalling brochures, pamphlets and printed info, and indeed you only gradually discover how seriously they take their environmental stewardship: they don't fog the beaches with insecticide but rely instead on a strip of yellow flypaper to catch mosquitoes outside your cabin; the menu is, as you'd expect, local seafood, but the lobsters and crabs are caught in small old fashioned cages, the fish are line-caught from a boat;  much of the veg is grown on the island under the supervision of the chef; almost nothing is made of plastic (a giant swan in the hotel pool for children was the exception); the hotel's ferry to the mainland only does two trips a day, and transport on the island is by bike or solar-powered electric buggy.  Energy is a mix of diesel-powered generators, but, hydro engines, solar panels and a wind turbine add green energy to the mix, and is being increased where possible.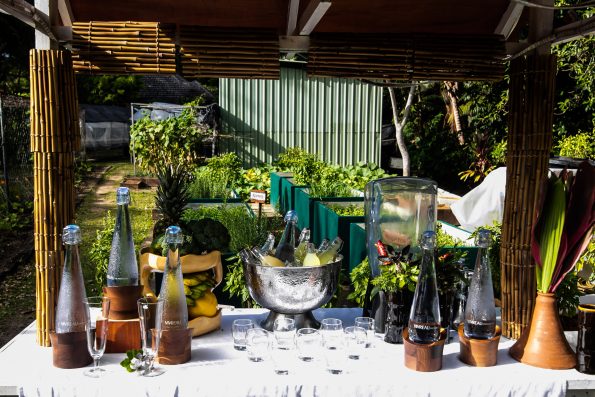 Kitchen waste is fully composted, wastewater from the hotel villas and from the village of forty-odd locals is treated before being returned to the river, which is clean, clear and full of wildlife.
One thing Silhouette has plenty of is fresh water, which comes down the mountain in torrents, so a cascade filling our private pool doesn't feel too wicked. In fact, I'm astonished that such environmental principles can still result in five-star luxury. Even the spa, tucked between the rocks halfway up the mountain, has introduced and encourages the use of locally made coconut oil lotions and potions, and is as luxurious and indulgent as you could wish for. Maybe being eco-friendly doesn't need to be such a sacrifice.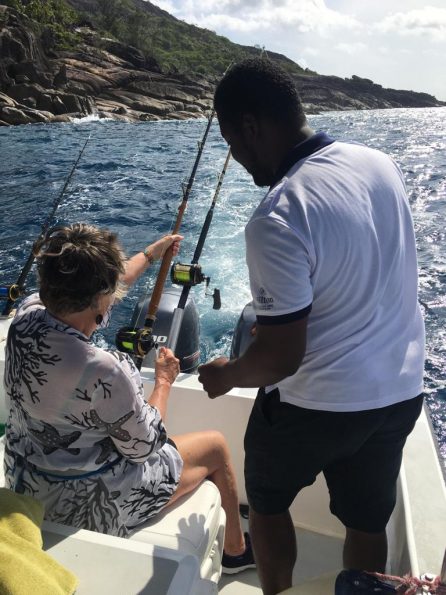 At Northolme, we had another private villa overlooking our pool and the sea, but this time from high up. The resort is an architectural marvel with the villas built into the hillside between the enormous rocks and trees. The public parts of the hotel: terraces, bars, lounges, restaurants are on different levels, all with views down to ceaseless waves chasing in and out of rocks and a tiny beach, or across the ocean to Silhouette.
We spent half our time lounging by the pool, and the other half exploring. The Seychelles dinky capital town of Victoria, is a delight. The houses, set among green gardens or along a tree-lined watery inlet, are mostly brightly coloured, traditional and looking vaguely Victorian-colonial. The town itself is tiny, boasting catholic, protestant, Hindu and Chinese temples. It also has a town clock, sadly stuck at noon, and a modern marina-cum-shopping mall. But don't get excited. If you want to shop Dubai airport is probably a better bet than Victoria.
To stay at Hilton Seychelles Labriz Resort & Spa the prices start from;
Entry category starting from (Garden Villa)
350 EUR on Bed & Breakfast for 2 pax
Beachfront Villa:
425 EUR on Bed & Breakfast for 2 pax
Deluxe Beachfront Pool Villa:
940 EUR on Bed & Breakfast for 2 pax
Silhouette Estate (Presidential)
Starting from 1400 EUR on BB for 2