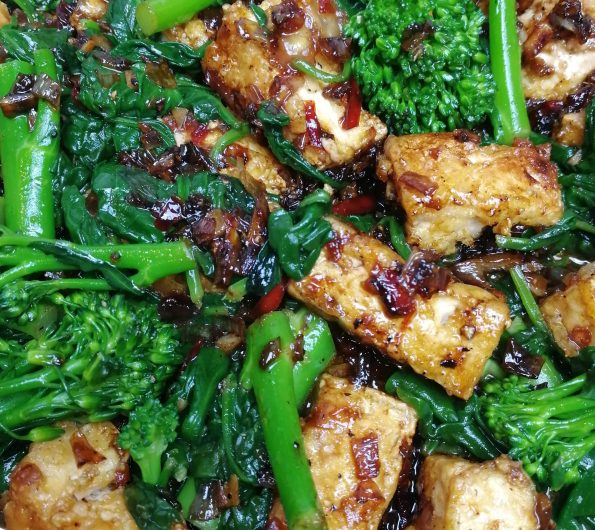 Cooking
Salt and Pepper Tofu by Peta Leith
When Prue and I started talking about writing a cook book together over 2 years ago,  we had initially thought it should be about cakes and pastries but that idea has evolved into a vegetarian cook book- The Vegetarian Kitchen.  I have been a vegetarian for most of my life and I feel passionate about cooking food that tastes delicious and looks good too.
The Vegetarian Kitchen is due out on 20th February.  You can pre-order the book now.
It is crammed full of vegetarian recipes with some vegan adaptations so you can make it work for you and your lifestyle.
Here is my recipe for Salt and Pepper Tofu with spinach and broccoli. (For all you Tofu haters…..the secret is to make it crispy)
Peta x
Salt and Pepper Tofu
1 x pack cauldron firm tofu (390g I think)
Cornflour for dusting
2 generous glugs veg oil  (60ml ish)
30g unsalted butter
2-3 large banana shallots, diced
2 large red chillis, finely chopped with seeds
1 inch piece ginger, peeled and minced
8 cloves garlic, finely chopped
3tbs light soy
3tsp dark soy
1.5tbsp hoisin sauce
1.5 tsp granulated sugar
1 tbsp freshly ground black pepper (thereabouts, I was grinding for a good minute or so, it was a lot)
2-3 big handfuls of washed spinach
100g tenderstem broccoli, sliced into bite-sized batons
2 spring onions, finely sliced on diagonal to garnish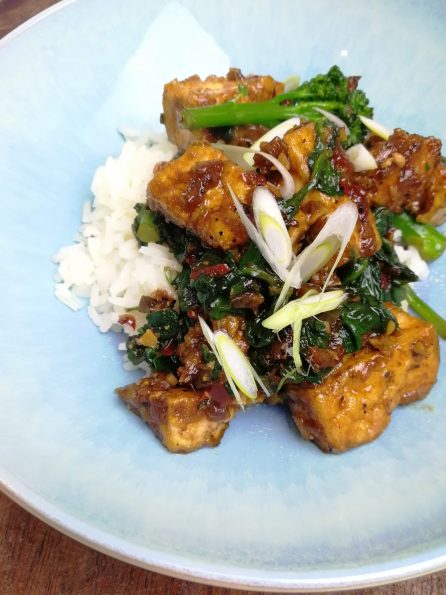 Drain and press the tofu to remove excess liquid, then pat dry and cut into chunks. Toss them in cornflour, then heat the veg oil in a large pan and fry on all sides until golden and crispy. Remove tofu and put into a bowl lined with kitchen roll to absorb excess oil.
Add the butter to the pan with the remaining oil, then saute the shallots, chilli, ginger and garlic over low/medium heat until soft and translucent, then add the soy sauces, hoisin, sugar and black pepper. Bring to the boil and simmer for 2-3 minutes, then add the tofu back into the pan and toss to coat the pieces in the sauce.
In a separate pan/wok, stir fry the spinach and broccoli until wilted and just tender. Add this to the pan with the tofu and stir to combine and heat everything through.
Serve with Thai jasmine rice, with the sping onions to garnish.