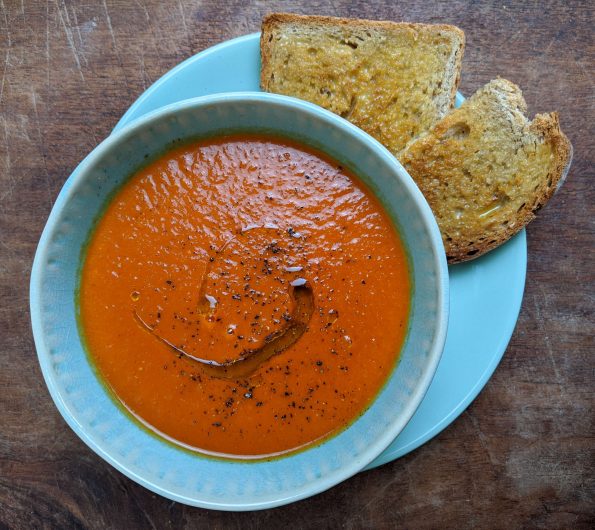 Cooking
Roasted Tomato Soup – store cupboard version
Roasted Tomato Soup
Peta Leith my talented niece,has adapted the roasted tomato soup (from our book The Vegetarian Kitchen) to use tinned tomatoes instead of fresh, in case that's all you have to hand at the moment. The results are a delicious and tasty soup.
Here is the recipe for 2 but of course you can double up for 4.
Serves 2
Ingredients
400g tin of tomatoes
4 cloves garlic, roughly chopped
1 tbsp olive oil
330ml veg stock
1/2 tsp caster sugar (granulated or demerara sugar will do)
Salt and black pepper
Method
Heat the oven to 160 C/ fan 140 C/ gas mark 3
Put the tinned tomatoes in a roasting tin with the garlic and olive oil and season with salt and pepper. Stir the tomatoes to coat them in the oil and seasoning. Cook for 1 hour.  Stir half way through and then cook for a further hour.
Remove from oven and blend with the sugar and stock, then season to taste.
Enjoy!!
We would love to see what you can make with a tin of tomatoes, garlic and olive oil.