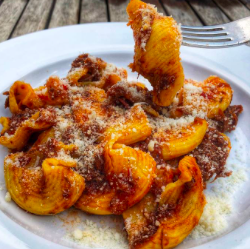 #TruePrue
Pasta Evangelists- Fresh Authentic Pasta delivered to your door
Conflict of interest alert! I am a shareholder in Pasta Evangelists (so let me hasten to say that I would not be puffing their pasta if I didn't think it was delicious.)
It is more than delicious: it's a weekly surprise and delight, and I've not had a duff delivery yet.
I've never heard of most of the dishes (e.g. Parpadelle with Beef Shin & Barolo Ragu; Orecchiete with pistachio pesto; black truffle and burrata ravioloni are examples from just one week) but it doesn't matter. I just order them anyway, knowing they'll be great.
I have to say I didn't think Pasta Evangelists would work. I'd backed a start-up internet-based food company before which went belly-up in no time. And that was an idea (rather like Hello Fresh or Gusto) with, I thought, a much better chance of making the big time than this one.   I mean, would enough people out there pay £8 for a single portion of fresh pasta, a bit of sauce and a sprinkling of garnish?  OK, it's not much more expensive than a delivered pizza but you have to cook the pasta and reheat the sauce. Wouldn't people just pick up a ready-made pasta sauce and a bag of pasta from the supermarket?
When I met Alex Savelli, the driving force of Pasta Evangelists, I was converted into, well, an evangelist.
Alex is obsessed with proper, fresh, authentic, pasta. He delves into the myriad traditions of regional Italian pasta-making, is determined to use only the best ingredients and he insists on everything handmade.
The food is honest, healthy, and really really good. And the company is going great guns.
Every week there's a choice of eight different pasta dishes, they deliver nationwide, and the boxes are slim enough to go throughyour letter box. Have a look at www.pastaevangelists.com.