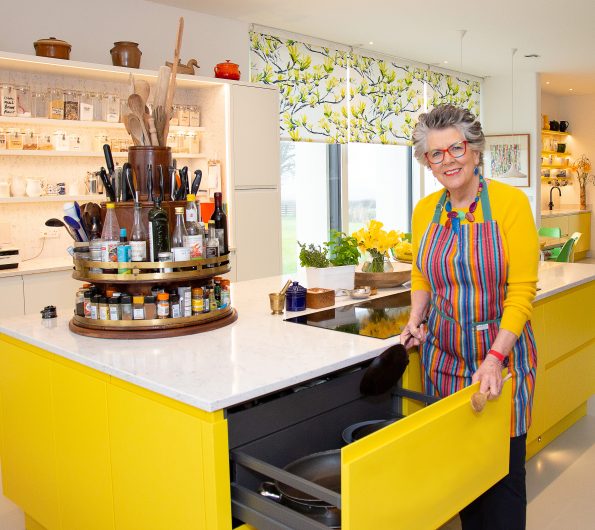 Home & Garden
New Kitchen
Not too many cooks get the chance to design their own kitchens. And I've had the good fortune to do that quite a lot in my long life: in my first mews house in Paddington, in two London flats, and three times since I moved to the country. This time, which must surely be my swansong, has been a total joy.
First of all, because I have been around and cooking for so long, I know exactly what I want, and don't want. Below waist height I don't want shelves, I want drawers that glide out at a flick of the finger and close with a silent sigh. Above waist height I don't want cupboards, I want narrow open shelves so the flours and sugars etc are lined up in an easy to grab row, without the castor sugar lurking behind the granulated and muscovado, or the flour packet bursting as I scrabble behind the tinned tomatoes and bottles of vinegar in a deep dark cupboard.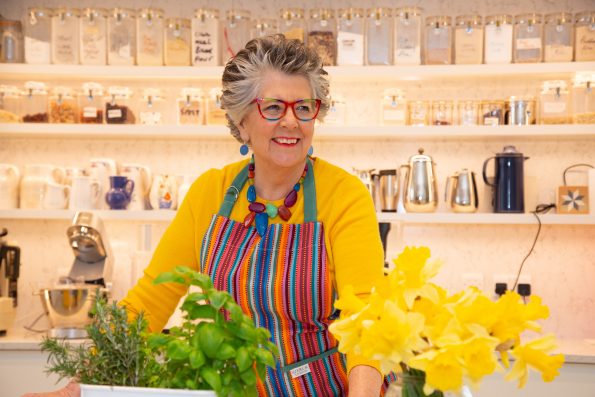 The alternative to dresser-like shelves is the magical narrow "larder unit" that pulls out to display bottles, jars, and packets of groceries or rows of mugs and tumblers, accessible from both sides.  And I want anything that will hang, to hang.  There are some hidden secrets, though. Most of the big top drawers have an internal narrow drawer for cutlery and non-hangable tools, and I have a vacuum packing machine which is hidden in a drawer. I vac-pac most of the stuff I freeze, in stackable, quick-to-thaw flat bags.
Omega, the brilliant British brand based in Doncaster have made my kitchens for almost 30 years. Their quality is amazing and I fully expect it to outlive me!
They have recently become much bolder about colour and I was sorely tempted by their Turquoise a rich deep colour. But in the end, I went for daffodil yellow units, white walls, Silestone work tops, and green and yellow blinds.  The only dark notes are the professional looking Miele ovens and fridges, stainless steel or black. Hubby John found really comfy green and yellow chairs on the internet and we resurrected his old dining room table. The room, with its Spring colours, makes me smile every morning.
Omega also did our dining room (actually one end of John's library) which was once a barn. It's huge and bright red. So, surrounding the dining room table I have kitchen units in fire-engine red, with black worktops, and a built-in couple of Miele warming drawers in the hopes that one fine day we'll see Covid restrictions lifted and dinners with friends allowed.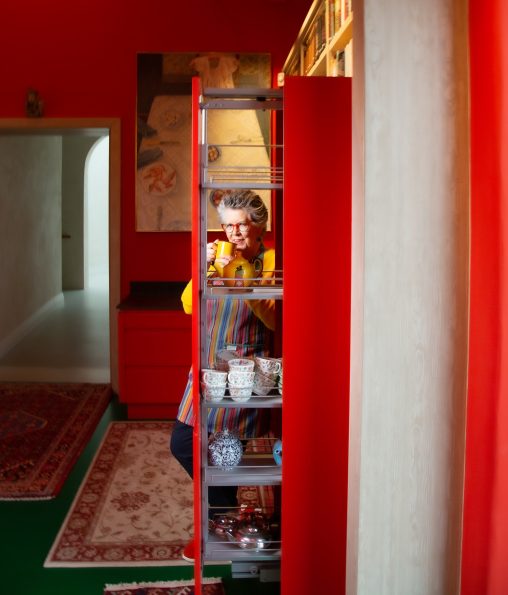 Ok, so it all looks good, but does it work? I'm glad to say it really does. One does walk a fair bit, round the huge central island (it took six men to carry in the single slab of worktop), from the cooking area to the wash-up to the prep area where the mixing machines are, to the larder (also full of open shelves) and back to the sink.
Yesterday I cooked all day and my Fitbit told me I'd done 14,000 steps. Delighted, I promptly excused myself from walking the dogs.
The space works too because we all took a lot of trouble to get the electric sockets in the right place, the sinks deep enough to take a big chopping board, the worktop at a height that suits me. Omega altered one unit to take our ancient wheeled trolley, and at the other end of the kitchen there is the luxury of a bay for making drinks and for doing flowers, something I enjoy as much as cooking. This is where the wine fridges (I think Miele call them wine conditioning units!) and back up fridge and freezer are.  Opposite are open shelves for the flower vases, mugs on cup hooks, tea making gear in drawers under the worktop, a Zip tap for instant boiling water for tea, chilled water for drinks and room temp water for the flowers.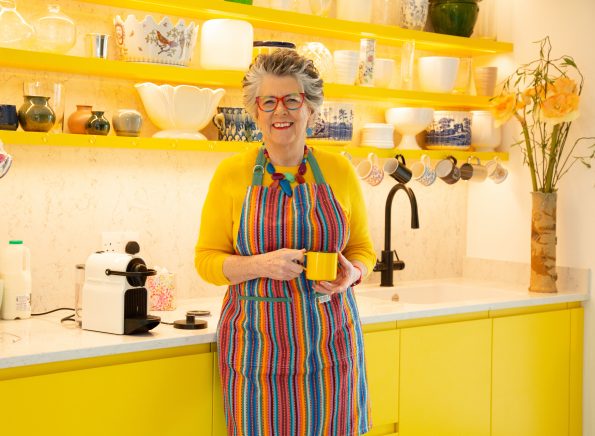 It's all so perfect I feel I might wake up and find I dreamt it.