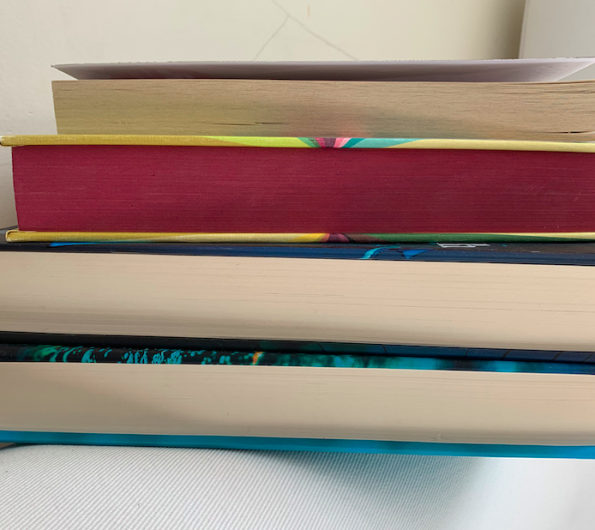 #TruePrue
My Lock down Book reads
Lock down has given me a chance, at last, to read a book a week – I'm a really slow reader – and slightly diminish the pile of books waiting by my bedside. Some of them have been there for years, all of them for months. I keep saying to myself that I have to read three books for every one I buy or I will never get them read in my lifetime. There's nothing like turning eighty for reminding one to get on with things.
So far, these have been my lockdown books:
I see You by Clare Mackintosh (Sphere, £12.99).  
This is Mackintosh's second best-selling novel and it's every bit as good as the first (I Let You Go). I have been hoarding it since it came out two years ago, and its only lockdown that has given me the time to gobble it up. Mackintosh has something in common with Jo Jo Moyes, writing about ordinary people caught up in very unordinary trouble. You believe in their characters, you empathise with the beleaguered women, you desperately want a happy ending, and you stay up all night turning the pages. But Mackintosh's books are thrillers, not family dramas, and are nail-bitingly scary. It's nice to know she's written another five books since this one. I feel nervous if I don't have a stack of books to read.
Last Rights by Sarah Wootton and Lloyd Riley (£8.99)
This little book, just out, is one everyone should read. It is a trenchant and I think unanswerable argument for a change in the law about dying. The authors expose the anomalies and disastrous consequences of the current law in which suicide is legal but helping a suicide will be prosecuted; in which doctors are made so nervous of prosecution for murder that they fail to prescribe enough morphine to control unbearable pain; in which terminally ill patients determined to escape the indignity and pain of a horrific death go abroad at great expense and discomfort to die in a soulless hospital, rather at home surrounded by the people they love; and in which people unable to ask for help attempt to kill themselves, often failing or dying horrible deaths.
80% of the public think the law needs changing. I hope this book changes the mind of our parliamentarians. At the very least they should hold an enquiry into the suitability (or not) of the current law.
The Mirror and the Light by Hilary Mantell  (Forth Estate £17.99)
This is the weighty third book in Mantell's Tudor trilogy. I loved Wolf Hall, liked Bringing up the Bodies even more and feared the third one would have to be an anti-climax. Not so. Mantell's writing is glorious; deft, riveting, often poetic, sometimes graphic and brutal as befits the events she covers.
Her central character of Thomas Cromwell is constantly satisfying: a pragmatic, intelligent man, subtle, strong, trying to loyally serve a king who is capricious, vain and dangerously touchy.
I never felt the temptation to skip even one sentence of the 900 pages. And I put it down with the regret one only feels on finishing a truly great book. Mantell won the Booker prize for both the first two books. She deserves to win it with this one too.
Lady Chatterley's Lover by DH Lawrence (Penguin £6.55)
In the sixties I bought one of the first copies of this book after the high court ruled that it was not salacious porn likely to corrupt its readers.
At the time all the attention was on the naughty bits, mostly explicit love scenes between the unhappy Lady Chatterley and the gamekeeper. But re-reading it a month ago, I realised it was as much about class, snobbishness and politics as it was about sex. But the love passages are still remarkable,  engaging and wonderfully written.
Killing It by Camas Davis.   (Picador from £5.99 )
A book by a journalist learning to be a butcher in rural Gascony might naturally appeal to foodies and ruralists. But I recommend it to anyone who feels strongly, one way or the other, about eating meat. I put the book down, having read about the traditional ways of killing pigs, making hams, fattening geese for foie gras, and much more, confirmed in my opinion that we should only eat animals who have had a good and natural life, however short. And that we should know what it's like to raise animals with care and tenderness and then kill them. It's a hard, unsentimental life, but a humane one.
The Lost Boys by Catherine Bailey (Penguin )
This in an unflinching account of the families of executed German Resistance members during WW2, captured on Himmler's orders. The main character, Fey, thinks she has escaped the Nazis with her two young boys when they are suddenly arrested. Her boys are taken from her, she knows not where. Her story of being driven from pillar to post, of being trapped in a sealed train for days, of hunger, fear, humiliation and the senseless cruelty of war, is harrowing. But it is also a tale of resilience and hope triumphing over the senseless cruelty of war.