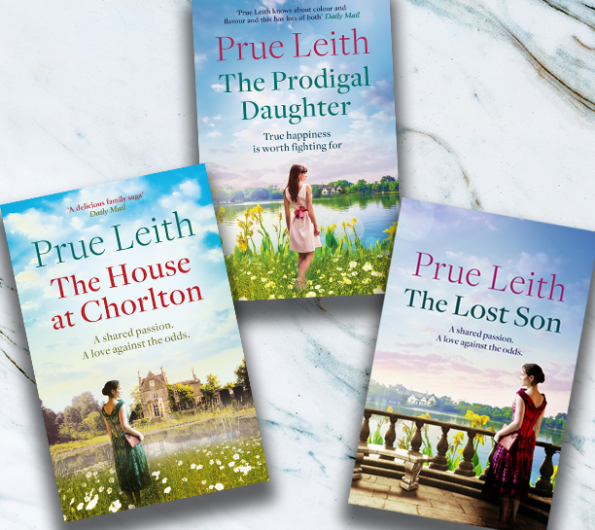 Home & Garden
My latest Novel 'The Lost Son' – out in paperback now
O the relief of seeing, The Lost Son, the third and final novel of my Angelotti Chronicles, finally out!
I was warned by my publisher that a trilogy is a lot more problematic than a single novel but  I didn't really believe it until I was half way through the second book, and found myself having to write time-lines, family trees and back stories for the characters.  Once I got to The Lost Son there were even more  characters,  some in their eighties, to hold on to, so I was forced to keep files on everyone's eye colour, hair, height and style.
Of course the three books have to be stand-alone novels, but what happens in Book One affects Book Two and Three. So here, by way of a quick summary, are the jacket blurbs for each book:
The House of Chorlton
A proud family.
World War 2 is not yet over. In the family's home at Chorlton, Donald Oliver is snubbed by his aristocratic neighbour, Lord Frampton. He dreams of the day he'll have his vengeance.
A wild daughter. 
Laura, Donald's daughter, falls in love with Giovanni Angelotti, an Italian ex-prisoner-of-war, now a humble cook.  Ignoring her father's wrath – the couple flee to London.
A desperate hope.
In a freezing post-war city, Giovanni and Laura face destitution. Banished from Chorlton, only their love and their dream of opening a restaurant keeps them going.
From society ballrooms to icy gutters, this is a tale of prejudice and ambition, passion and hope, and one couple's struggle to carve out a life of their own.
The Prodigal Daughter
A new generation
It is 1968. Angelica Angelotti has grown up in her parents' Italian restaurant. Now she is striking out on her own in Paris. There she falls in love with her charismatic but unpredictable cousin Mario.
A fresh challenge
Navigating a blossoming career, from the Savoy hotel to the world of television, alongside an increasingly toxic relationship proves impossible. The offer to run the pub on her family's estate as a restaurant seems like the perfect escape. Chorlton has called her home…
A brighter future
Soon she has a thriving business, and even the chance of a new love. But when Mario reappears, determined to win her back, will Angelica be able to hold on to everything she's sacrificed so much for?
The Lost Son
An old heartache
As poverty-stricken newlyweds, Laura and Giovanni Angelotti were forced to put their first child – a boy – up for adoption. They have had other family since, and their first little Italian cafe has become a restaurant empire, but Laura is still haunted by thoughts of the baby she lost.
A new life
Tom is a successful businessman enjoying the fast-paced City lifestyle – until his best friend and business partner is killed in the 9/11 attacks and his world turns upside down. Searching for meaning in his life, he decides to track down his birth family: the Angelottis.
A family reunited
But Laura has been keeping an explosive secret about Tom's parentage that means his reappearance in her life is bittersweet. She may have found her son, but will it be at the cost of everything it has taken her fifty years to build?
The trilogy starts in WW2 and ends round about now and  so it just about covers the near-eighty years of my life-time. I don't remember the war, but I do remember post war rationing, the grime and grey of austerity London, and the abysmal food on offer in restaurants and cafes. It was a great setting for a powerful love affair.
The easiest of the books to write was probably the middle one, The Prodigal daughter, because Angelica, like me, was a student in Paris in the sixties, worked in the restaurant London scene in the seventies, moved to the Cotswolds and ends up on telly. I didn't have to do much research at all because I was writing about places and environments I know so well.
The Lost Son is about the return, at fifty-five years old,  of Tom who was adopted at birth in the first book. His search for his birth mother was fascinating to write, not least because I could steal my husband John's story. He'd traced his mother when he was in his fifties. Tom's discovery of a whole new family of rowdy emotional, talented Italians, his relationship with his unreliable niece and his two love affairs, one disastrous, the other transcending, were great to write. But exhausting.
Right now I think I'll never write another novel.  But then,  I always say that.