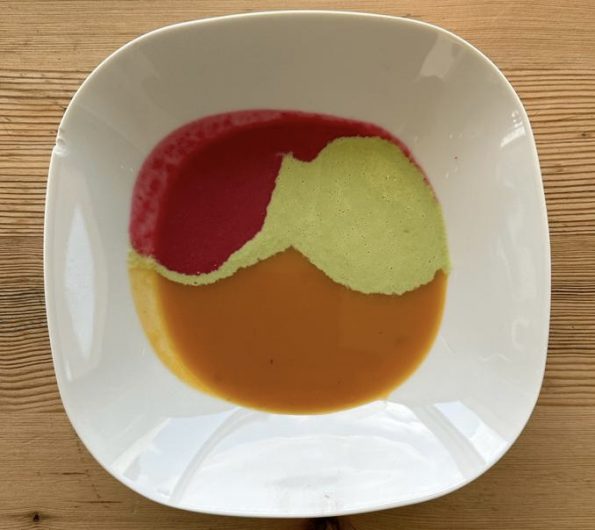 Cooking
Multi Coloured Soup
I made this multi coloured soup last week.  I know it isn't soup season but you can have it cold or sweat it out.
Ingredients
One large onion, chopped
1 tbs oil or butter
1 clove garlic, crushed
500 ml veg or chicken stock
Veg:
500 g peeled and cubed butternut squash and 300 g peeled chopped carrots OR 500 g fresh beetroot and
l large potato peeled and sliced OR 500 gr fresh asparagus (woody ends removed)
300 g frozen peas
Dash of cream (optional)
Salt and pepper
Lemon juice,
ground cumin,
ground coriander,
chopped fresh mint (optional)
Method
If making all three soups, you can make them all at once. Steam, roast or boil the veg separately.
Peel the beetroots when cold enough to handle.
Slowly cook the onions in three separate saucepans, each with their tablespoon of oil, until soft and translucent.
Add a clove of crushed garlic to each and fry for a minute, stirring.
Then add the squash and carrots to one saucepan, the beetroot and potato to the second, the peas and asparagus to the third, each with enough stock to just cover the veg.
One by one, liquidise the soups until velvety smooth, adding more stock to get the consistency you want.
If doing my three-colour trick, they need to be quite thick so as not to blend with each other. You can add cream to any or all the soups if you like. Season with salt and pepper.
I add a squeeze of lemon juice and a teaspoon of cumin the beetroot one, a dash of cream and teaspoon of coriander to the squash one and a tablespoon of finely chopped mint to the pea and asparagus soup.
Have fun!