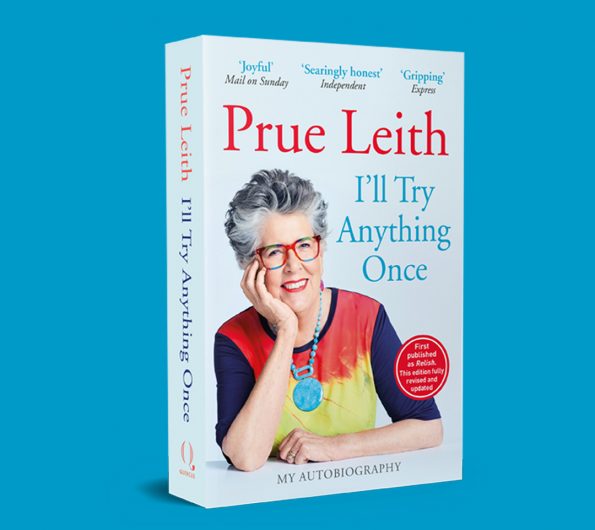 #TruePrue
I'll try anything Once
When my autobiography, Relish, was published in the UK, I was pleased with the title. It meant to me a relish of life, of family, of travel, of food. I've been lucky enough to have a great life, full of surprises and happiness, love and excitement.  It's also been full of the ups and downs of an experimental nature, resulting in faux pas and disasters,  false starts and new dawns.
So when, after the massive success of The Great British Bake Off particularly in the US, where the British version is  shown on Netflix, and the American one, called the Great American Baking Show, will be streamed on Roku, it seemed a good idea to update Relish.
My American publishers pointed out that in the US, relish is something that goes on a burger, and the word is never used as a verb.  So after much deliberation, I thought I should call it Nothing In Moderation. But this, they said, was too negative. Well, we ended up with I'll try Anything Once. Which I agree rather sums up my progression through life. Thinking ahead has not been my forte.
I wanted to update the book anyway, because a lot has happened since the last edition: I've sold my house of 45 years, John has sold his, we've built a new one, finally moved in together, and turned a near derelict farm into a modern house and garden and a mini organic farm.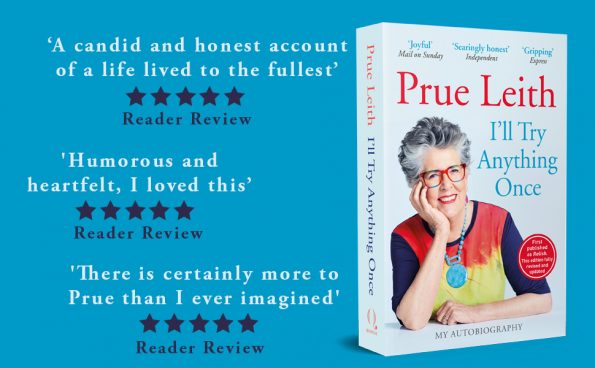 We made a series for Channel Four, Prue's Great Garden Plot about making a new garden from scratch. And then I've recently started a TV production company with my daughter and a couple of her friends, all far more experienced than me in the world of documentaries and drama. Oh Yes, and I was awarded a damehood.
I'm 82 now, and coasting along quite happily. Occasionally I think of retirement.  But then, what would I do?  I'm so bossy, and so tediously energetic, I'd drive everyone mad if I was at home all day.
So  I'll keep plugging away, as long a "Team Prue" continues to hold the old girl up. It is one hell of a team: Francisca who edits my copy, runs my diary, does the accounts; Jane Galpin (of How to Look Good), who does just that, organising what I wear when filming from earrings down to the shoelaces; Bambi who does my film make-up, Philippa who does the gardening, grows the veg and herbs and is a wiz at arranging flowers. Then there's Lyn. who for nearly forty years as done my the shopping, housekeeping and just about everything else, except for Angie who does the really boring stuff like cleaning and ironing. And then there's Sarah who looks after my social media and website, Sharon who is a brilliant publicist, Hilary Knight, my agent, and Jane Turnbull, Literary agent.  And of course John — husband, chauffeur, gardener and critic. He sees his job as reminding me I am only mortal.
So that's the answer to the question "How on earth do you do it all?" The fact is, I do the fun part, and everyone else does everything else. And thank God, and them, for that.
We all had a Girls Night Out (John was an honorary girl for the occasion) a few weeks ago, seeing The Great British Bake-Off, the Musical, in Cheltenham. It was very funny and we all loved it. Strange to see Rosemary Ashe play me so accurately. She had my voice, my walk, my look, to a T. Except that she's much younger, smaller, and better looking.