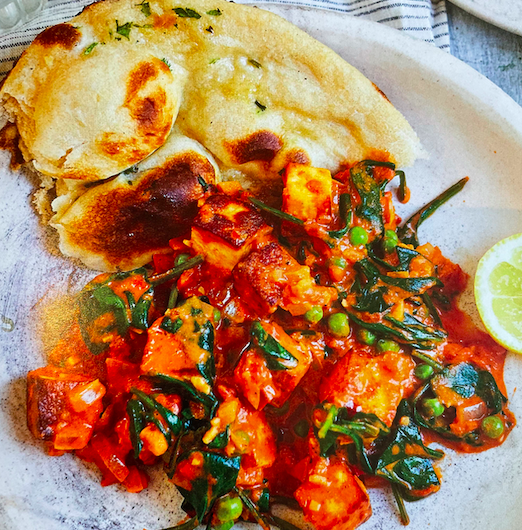 Cooking
Paneer Curry
This tasty Paneer curry has been taken out of The Vegetarian Kitchen cook book that I co-wrote with my talented veggie niece Peta Leith.
For years I had been reluctant to try paneer, as descriptions often likened it to cottage cheese, which immediately puts me off.  However, the description is so wildly inaccurate- it's far more like halloumi, and since discovering it, I cook with it all the time. The curry below is one of my favourite ways to use it. Peta
Serves 4
Ingredients 
4tbsp Vegetable Oil
1 onion sliced
2 garlic cloves
1 mild red chilli, finely chopped (with seeds)
2.5cm piece of ginger, peeled and finely chopped
1tbsp tomato puree
1 tsp ground cumin
1 tsp garam masala
1 tsp hot curry powder
1 x 400g tin of tomatoes
100 ml double cream
Salt and black pepper to season
100g baby leaf spinach
250gm paneer, cut into bite sized cubes
100g frozen petit pois
A pinch of sugar
Squeeze of lemon
Rice and/or naan bread to serve
Method
Heat 2 tablespoons of the vegetable oil in a large saucepan over a medium heat, then add the onion, garlic, chilli and ginger and saute for 3-4 minutes until the onion is soft and translucent, then add the tomato puree, cumin, garam masala and curry powder. Cook for 30 seconds, then add the tinned tomatoes and double cream.
Season well with salt and black pepper, bring the mixture to the boil, then reduce the heat and simmer for 10 minutes. Rince the spinach leaves.
Meanwhile, heat the remaining vegetable oil in a frying pan over a medium to high heat. Add the paneer and fry it, turning it frequently, until golden brown and crisp all over.  Add the paneer to the curry.
Return the curry to the boil, then reduce the heat and simmer for a further 10-15 minutes. Add the frozen peas and spinach, return to the boil, and simmer for just a few minutes until the peas are cooked and spinach has wilted.
Add the sugar and a small squeeze of lemon juice, check the seasoning, and serve with rice or naan bread.