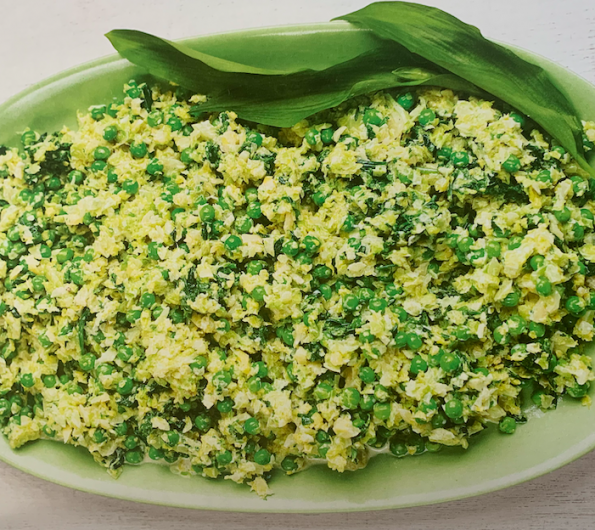 Cooking
Green spinach, sprouts and frozen peas
Sprouts aren't just for Christmas
There is nothing like a sprout to divide opinion. Sprouts get a bad press because they used to be big and bitter.  If serving them whole, don't bother to make the cross in the bottom unless they are very large. Peel off the dark outer leaves.
This recipe is guaranteed to convert all sprout haters.
Serves 8
2 Garlic cloves
30g butter
500g Brussels sprouts, tough outer leaves peeled off
180g baby spinach leaves
a handful of wild garlic leaves plus a few to garnish
250g frozen peas
300ml double cream
¼ tsp freshly grated nutmeg
salt and pepper to season
In your smallest saucepan, fry the garlic gently in the butter until foaming and smelling good, but don't let it get brown. Remove from the heat but leave in the pan.
Boil the sprouts in plenty of salted water until just tender (about 5 minutes), then drain and swish them under the cold tap briefly to halt the cooking. While they are still pretty hot, decant into a food processor and pulse until roughly chopped (this step can be done by hand it just takes longer). Spread out the chopped sprouts on a clean tea towel to steam dry a bit more.
In the pan you used for the sprouts, cook the spinach leaves and wild garlic, if using, in a teacup of water over a medium low heat, turning them until they are all wilted. Drain and rinse under cold water, then dry and chop roughly. Now put the peas into the saucepan, pour boiling water over them, wait a minute for them to thaw, then drain.
Pour the cream into the garlic pan. Add the nutmeg, a good few twists of the pepper mill and a generous pinch of salt. Mix the three veg together and put them into a microwaveable serving dish.  Pour the garlicky cream over the top and fork the top to encourage the pepper and nutmeg to penetrate.   Cover and refrigerate if not serving right away.
When ready to eat, microwave for 3 minutes, forking them over halfway through. Serve with a few wild garlic leaves, if using.