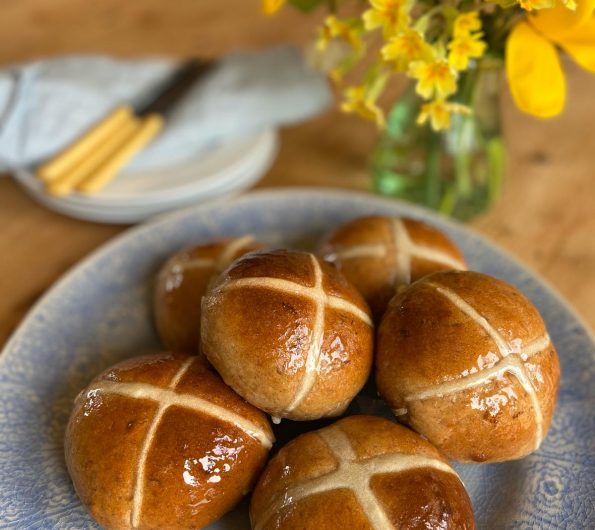 Cooking
Easter Hot Cross Buns
Easter Hot Cross Buns
Nothing says Easter like a Hot Cross Bun. These soft  buns with orange, lemon, mixed peel and mixed spice are perfect for breakfast or in the afternoon with a cup of tea. Enjoy.
Ingredients 
45g butter
280ml milk
500g strong white flour, plus extra for dusting
75g caster sugar
2 tsp ground mixed spice
1 tsp ground cinnamon
1 lemon, finely grated zest only
1 orange, finely grated zest only
1 tsp salt
7g fast-action dried yeast
1 egg, beaten
200g sultanas
50g finely chopped mixed peel
oil, for greasing
For the tops
75g plain flour
5 tbsp water
3 tbsp apricot jam, for glazing
Method
Melt the butter and warm the milk in separate pans. Cool both to tepid. Put the flour, sugar, spices, lemon and orange zest, salt and yeast into a large bowl and make a well in the middle. Pour the butter and milk into the dry ingredients and add the egg. Using your hands, gently mix everything together into a sticky dough.
Transfer to a floured work surface. Knead by hand incorporating the sultanas and mixed peel evenly into the dough. Knead for 10 minutes until elastic and forming a smooth ball. You can also use a food mixer with a dough hook fitted.
Place the dough in an oiled bowl, cover with a clean damp tea towel and leave to rise in a warm place for 1½ hours or until doubled in size.
Turn the dough out on to a floured surface and divide into 12 balls. Place the balls on a baking tray lined with parchment, leaving enough space for the dough to expand. Cover loosely with oiled cling film and set aside to rise for an hour.
Preheat the oven to 220°C/200°C Fan/Gas 7. For the tops, mix the flour and water together to make a thick paste. Spoon into a piping bag with a small nozzle fitted.
When the buns have risen pipe a cross on each. Bake for 18-20 minutes until pale golden-brown. (No piping bag…. no problem, spoon into a ziplock bag or a sandwich bag and then snip off the corner just about 3-4mm.)
Melt the apricot jam in a pan and, while the buns are still warm, brush them all over to give a nice shine. Leave to cool.