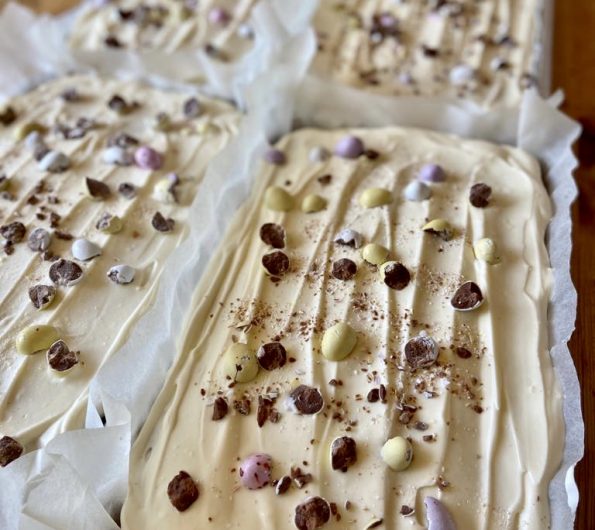 Cooking
Easter Carrot Cake tray bake
Easter Carrot Cake tray bake
Ingredients
310ml vegetable oil
4 eggs
1 tsp vanilla extract
300g self-raising flour
330g caster sugar
2 tsp bicarbonate of soda
3 tsp ground cinnamon
Pinch of salt
100g sultanas
3 carrots, coarsely grated
Cream cheese icing
115g unsalted butter, softened
225g cream cheese
500g icing sugar
1 tsp vanilla extract
¼ tsp salt
100g mini eggs, bashed into bits
Method
Preheat oven to 180°C/160°C fan/Gas 4. Grease and line a roasting tin with parchment.
Whisk the oil, eggs and vanilla in a jug. Sift the flour into a large bowl. Mix in the sugar, bicarbonate of soda, cinnamon and salt. Then add the oil mixture, sultanas and carrots. Stir to combine. Pour into tin and bake for 45-50 minutes or until a skewer inserted comes out clean. Cool.
Make the icing. Using an electric mixer, beat the butter and the cream cheese until light and fluffy. Gradually sift in the icing sugar, then add vanilla and salt. Continue to beat until well combined.
When the cake is cold, spread the icing over the top evenly and sprinkle with the bashed mini eggs.