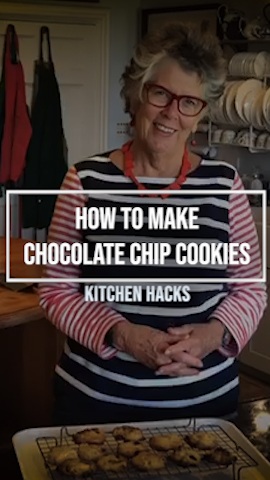 Cooking
Choc Chip Cookies
I originally created this Chocolate Chip Cookie recipe for my Grandchildren's school during lockdown. It was a bit of fun that the children and parents could have together.
It is very simple base mix that you cad add your chosen fillings to. From chocolate to peanut butter or whole nuts to dried fruit. I used broken chocolate biscuits.
Watch the video here-
Chocolate Chip Cookies 
Ingredients
110g butter, at room temperature
110g caster sugar
l egg, beaten
170g plain white flour
pinch salt
½ teaspoon vanilla
150 dark chocolate , chopped (or choc chips)
Method
Heat  the oven to 180 C, Gas 4. Line a baking sheet with non-stick baking paper
Beat the butter and sugar together until it is soft, fluffy, and paler in colour.
Mix in the egg, flour, salt, vanilla and the chocolate
Put tablespoons of the mix, well-spaced (the cookies spread in the oven and if too close will merge) . Flatten the top of each cookie slightly.
Bake for 10-12 minutes until pale brown.
Transfer carefully (they are fragile while hot) to a wire rack.  They will crisp up as they cool.
Once cold store in an airtight container.
Finally put the kettle on!!