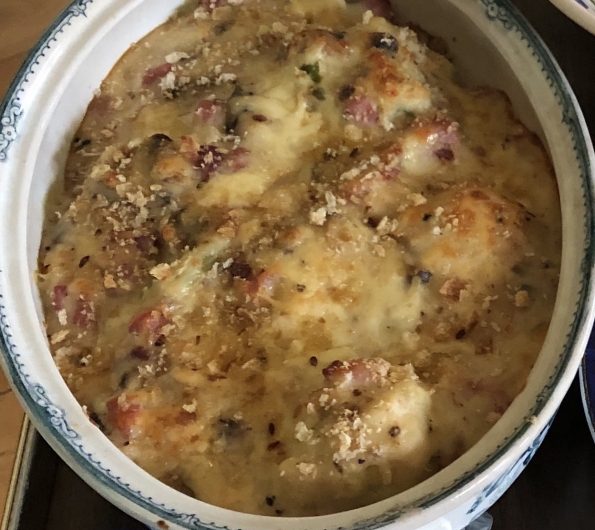 Cooking
Cauliflower and Mushroom Crumble
Cauliflower and Mushroom Crumble 
I cooked this simple dish for a 'Meat Free Monday' supper and had so many requests for the recipe so here it is.
Ingredients
1 small cauliflower,
1 small onion, chopped
Oil for frying
1 clove garlic, crushed
Small box mushrooms, sliced
2 level  tablespoons plain flour
400mls creamy milk
80g cheddar, grated
Salt and pepper
For the Crumble:
3 tablespoons plain flour
40 g butter
Method
First make the crumble by briefly whizzing the flour and butter together in a food processor, or by rubbing the butter into the flour by hand, until you have a crumble texture.
Boil the cauliflower in salted water for 6 – 8 minutes. Drain and put in an ovenproof dish.
Fry the onion in a little oil until tender, then add the garlic and the mushrooms and fry, stirring for 3 – 4 minutes, adding a little more oil if necessary. until the mushrooms are soft. Take off the heat, stir the flour in well, then add the milk and stir over a gentle heat until bubbling and smooth. You should have a sauce the consistency of pouring cream. If it is too thin, boil it down a bit, if too thick, add more milk.
Add the grated cheese (keeping back a tablespoon for the top), stir well and season with salt and pepper. Pour over the cauliflower.  and top with the crumble and reserved cheese.
Brown under the grill.
I served with a green salad but any vegetables will work.