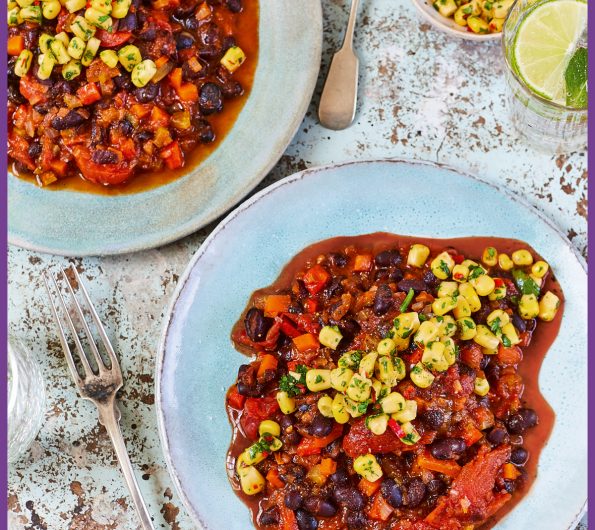 Cooking
Black Bean Chilli with Corn and Lime Salsa
Black Bean Chilli with Corn and Lime Salsa
This is a really hearty, warming chilli, perfect for a cold night. The recipe is from my new cook book The Vegetarian Kitchen, co-written with my niece Peta Leith. She has been a vegetarian for years ….so knows a thing or two about creating recipes that 'pack a punch'.
Serves 4-6
Ingredients
1 Onion
3 garlic cloves
1-2 green chillies
2 tbsp olive oil plus 2tsp
1 red pepper, deseeded and finely chopped
1 carrot, peeled and diced
2 celery sticks, finely diced
1 tsp chipotle paste
1 tsp ground cumin
2 tsp tomato puree
2 x 400g tins black beans
1 x 400g tin chopped tomatoes
500 ml vegetable stock
salt and black pepper to season
100g drained tinned sweetcorn
Juice of ½ lime
½ red chilli, deseeded and finely chopped
a small handful of coriander, finely chopped
Method
1. Finely chop the onion, garlic cloves and green chillies.
2. Heat 2 tablespoons of oil in a large saucepan over a medium heat, add the onion, garlic and green chillies and saute for 3-4 minutes until the onion is soft and translucent, then add the red pepper, carrot and celery. Sweat for a few minutes more, then add the chipotle paste, smoked paprika and tomato puree.
3. Stir to coat the vegetables evenly, then add the drained black beans, tinned tomatoes and vegetable stock. Season with salt and black pepper, bring to the boil, then reduce the heat and simmer for 30 minutes, stirring occasionally.
4. Remove from the heat and season to taste.
5. To make the salsa, mix together the sweetcorn with the lime juice, and chilli and coriander. Stir through 2 teaspoons olive oil. Serve the chilli piping hot, with salsa on top.