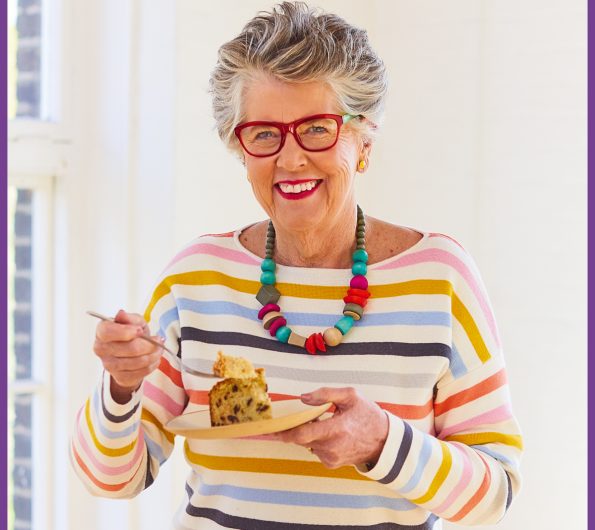 Cooking
Bing Cherry and Almond Cake
Bing Cherry and Almond Cake 
In my first season on The Great British Bake off, one of the contestants in a Christmas special was Val Stones, a great character and altogether lovely women.  She introduced me to dried Bing cherries from Oregon. Bing cherries are particularly sweet and full- flavoured but are too juicy to used fresh- they'd make the sponge soggy- so I buy dried ones online
Serves 12
Ingredients 
150g dried cherries, preferably Bing
40g ground almonds
270g plain flour
2 tsp baking powder
115g unsalted butter, at room temperature, plus extra for greasing
210g caster sugar
3 medium eggs
½ tsp almond extract
190ml whole milk
120g chilled marzipan, coarsely grated
30g flaked almonds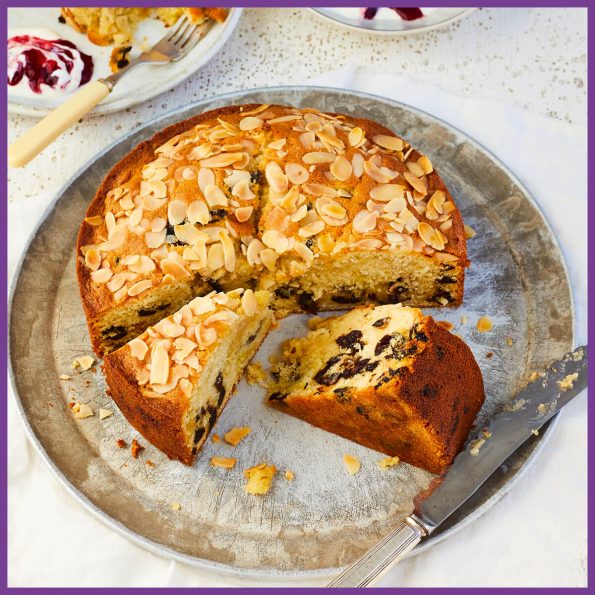 Method
Heat the oven to 190 C/ fan 170 C/ Gas Mark 5. Grease the sides of a deep 20cm (8in) round cake tin and line the bottom with baking parchment.
Put the cherries in a heatproof bowl, cover with boiling water, set aside and leave to soak.
Spread the ground almonds out on a baking tray and toast them in the oven for 3-4 minutes, or until just starting to colour. Be careful! They burn in a flash. Remove from the oven and set aside to cool.
Sift the flour and baking powder together, then add the toasted ground almonds.
In a large mixing bowl or stand mixer, cream the butter and sugar until pale and fluffy, scraping down the sides of the bowl frequently.
Beat in the eggs, one at a time, followed by the almond extract.
Beat in half the flour and almond mixture, followed by half the milk. Add the remaining flour mixture, then the remaining milk. Beat only until everything is incorporated and there are no streaks of flour remaining.
Drain the water off the cherries, then squeeze and pat them dry. Cut the cherries up until the size of currants.
Add the chopped cherries to the cake batter along with the grated marzipan and stir to distribute them evenly. Transfer the mixture to the lined cake tin, then sprinkle the flaked almonds over the top of it.
Bake in the middle of the oven for 60-70 minutes. Check it after 40 minutes, and if the top is browning too quickly, cover the cake loosely with foil for the remaining cooking time. When it is ready, it should be well risen and golden, and a skewer inserted into the middle should come out clean.  If it doesn't, give it another 5 minutes in the oven.
Remove from the oven and allow the cake to cool in the tin for 20 minutes, then turn it out onto a wire rack to cool completely.
This cake will keep in an airtight container for up to 1 week. It also freezes perfectly.
It's good served with a blob of crème fraiche, mascarpone or Greek yoghurt streaked with cherry jam.