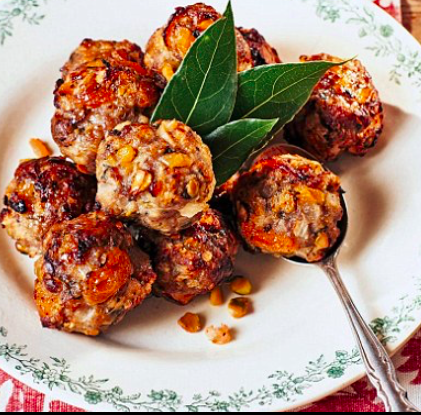 Cooking
Apricot and Pistachio stuffing balls- perfect for Easter
Apricot and Pistachio Stuffing Balls
Here is an alternative stuffing which can be served with your turkey or prepared in advance and frozen to serve with other roast meats. It's delicious with ham. Thaw at room temperature before rolling in oil and baking.
Makes approx 18 stuffing balls
Ingredients
1 medium onion, chopped
4tbsp oil
450g (1lb) pork sausage meat or minced pork
2tsp chopped sage
55g (2oz) pistachio nuts, chopped
55g (2oz) dried apricots, sliced
½tsp salt
½tsp coarsely ground black pepper
1 egg
2tbsp white breadcrumbs
Method
In a frying pan, cook the onion in 1tbsp of the oil until soft. Leave to cool. Place the meat, sage, nuts, apricots, salt, pepper, egg, breadcrumbs and 1tbsp oil in a large bowl and add the onion mixture.
Using your hands, mix and shape into golf-sized balls. Place the remaining oil in a roasting tin and roll the stuffing balls in the oil to coat.
When your turkey has 30 minutes of cooking time to go, put the balls in the oven
on the shelf under it and cook until brown (or if your turkey is nicely browned,
place the balls on the shelf above and cook for just 20 minutes). Serve with the bay leaves, if using.