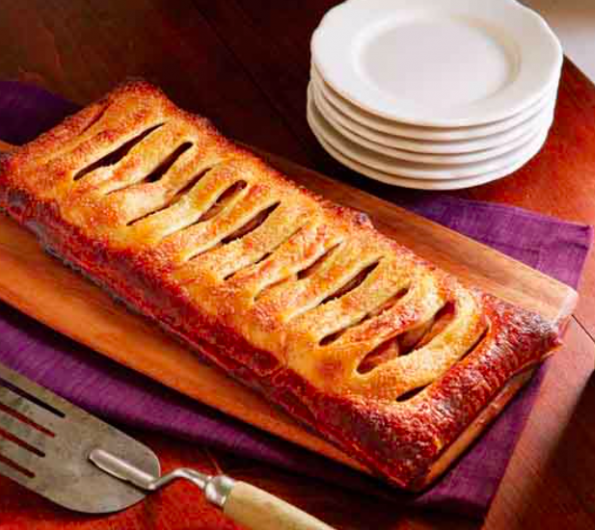 Cooking
Apple Jalousie- an easy to make pud ….that works every time
Photo by Scott Phillips
Sometimes, cheating with ready-made pastry, I make apple 'jalousies', the simplest of French pastries, and stack them flat in the freezer, ready to bake from frozen.
RECIPE FOR APPLE JALOUSIE
Making individual ones is a bit of a fiddle, but making a family-size one is a doddle. Here's how:
Roll out a rectangle of puff pastry to the thickness of a pound coin and about 30cm x 12cm.
Lay it on a flat baking sheet or the back of a baking tray and sprinkle it all over with two tablespoons of semolina or polenta, leaving an inch of margin at the sides. (The polenta is to stop the famous soggy bottom.)
Then cover the polenta with a flat layer of the half cooked apples, sprinkle with sugar, wet the clear edges all round with beaten egg, and roll out a second sheet of pastry to make a top sheet.
Press down all round to seal the sides, and brush with egg.
Now, using a sharp knife cut parallel slits a centimetre apart, across the top pastry, cutting through to the apple, so your 'jalousie' looks like a Venetian blind.
If baking straight away, sprinkle with castor sugar and put into a hot oven (220°C or Gas 7) for 20 – 25 minutes or until good and brown.
If freezing for later, don't do the egg-wash bit. Just seal the edges with water, cut the slits, then freeze.
Paint with egg glaze. Run the point of a knife along the slits to prevent the egg gumming up the slits which need to be open to let the steam out while baking.  Dust with caster sugar and bake.