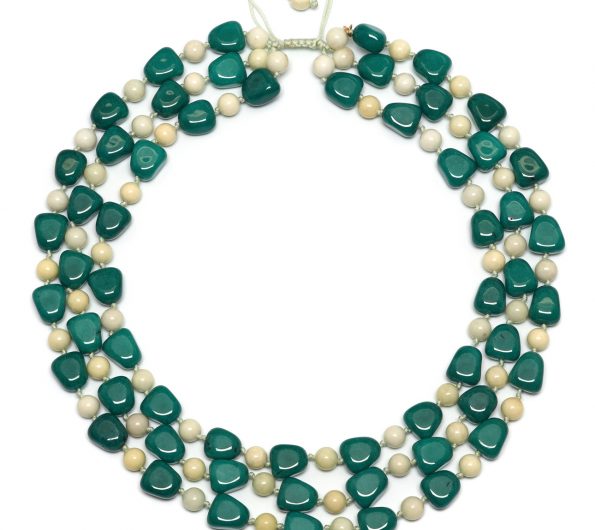 Fashion
Lola Rose – Prue x LR
Lola Rose- Prue x LR
A lot of the jolly, colourful jewellery I wear is cheap stuff bought in markets, second hand shops and street stalls while on holiday. I've scooped up bargains (by which I mean three pairs of earrings for ten dollars!) in Thailand, Mexico, Egypt, Myanmar, Japan, all over the world. They are all very different, the only thing they have in common is colour. Africans are brilliant at beading, Mexicans make wonderful stuff out of wool, the Japanese go in for funky design or kitch Hello Kitty stuff.
In England I've tended to buy rather more designer-ish necklaces made out of rubber, plastic, or resin. But lately I've been feeling guilty about my throw-away attitude to necklaces and have become addicted to Lola Rose semi-precious jewellery. Nikki Gerwitz, the LR owner and designer uses real stones to make both classic and funky pieces which her devoted fans collect avidly. She sells from the Lola Rose website and on the shopping channel QVC, and in a few retailers like John Lewis. So, emboldened by the success of my specs, I approached her. Would she consider a Prue range? Yes!
So now we have a lot of fun, with her trying to teach me about Alexandrite, hematite, turquoise, tanzanite, agate and a host of others. I feel like a kid in a sweet shop.
But why has Nikki let me in, let me interfere with a hugely successful business. She doesn't need me to sell Lola Rose. But her attitude has been enthusiastic from the start. She seems to enjoy my pushing her to design pieces that are bigger, bolder, more colourful and funkier.
We offered the first Prue x Lola Rose Collection on QVC before Christmas. We were allotted an hour, but after 23 minutes, we were told, that's it, Sold Out. Our next QVC moment will be on 23rd March and then there'll be bigger summer Prue x Lola Rose collection in May.   Give it a go,  shop here.